Individual exhibitions

1990 Retrospective, Philips, Louvain.
2004 He organised Werken in de Schaduw (Works in the Shadow) exhibition at Cultuurcentrum Mechelen, which featured unknown painters.
2005 Rubens House, Antwerp.
2009 Some 400 paintings of boxers, courting couples and self-portraits on the Napelsstraat, Antwerp.
2013 Authors at Gaasbeek Castle (Brussels).
2015 Inauguration of the painting Mariss Jansons at Concertgebouw Amsterdam.
2016 Opening Tentoonstellingsruimte Sam Dillemans.
2017 Inauguration of the Ypres painting in the In Flanders Fields Museum in Ypres.
2018 Goodbye to All That - Paintings of the Great War.
2018 Donation of the painting Homage to Rubens: The Descent from the Cross to the Cathedral of Antwerp. The work can be viewed in confrontation with the original painting by Rubens.
2019 FIGHTERS - paintings and drawings of boxers and athletes.
2022 Inauguration of Two War Landscapes in the university Library of KU Leuven.



Twenty-five years after he first started painting in Borgerhout (Antwerp), Sam Dillemans has had an old industrial building renovated near his atelier in order to use it as an exhibition space for his works on a regular basis.

His unconventional artistic career, unaffected by compelling trends, has acquired a unique position in the contemporary Belgian art world, also through a number of successful exhibitions in Belgium and abroad.

Due to popular demand, Sam has agreed to create an opportunity for his fans to be able to enjoy his authentic art on a permanent basis. For the realisation of this initiative, he could rely on enthusiastic support of his entourage.

The idea is to organise regular long-running exhibitions of his work from two different angles: on the one hand, to show the oeuvre that represent different artistic periods in Dillemans' career; on the other, to unveil recent topic-based works.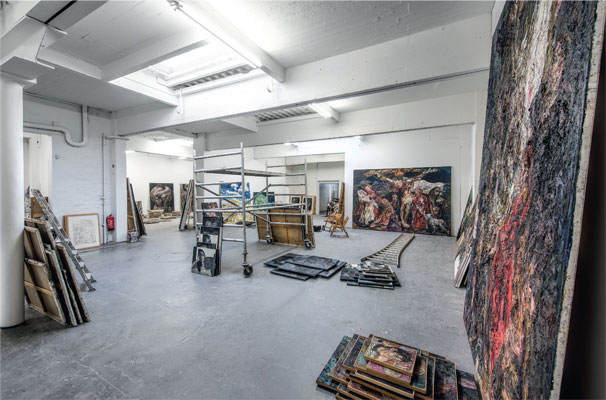 Group exhibitions

1994 Classical Beauty, Royal Museum of Fine Arts, Antwerp.
1999 Belgian Art 1945-1999, Warsaw.
2000 International Young Art 2000, Art Link Sotheby's, Chicago, Vienna en Tel Aviv.
2000 14 + 1, Kunst aus den EU-Ländern, Breuner Paleis, Vienna.
2012 De nieuwe Gouden Eeuw (The New Golden age), Bornem.
2012 Sehnsucht, Gaasbeek Castle.
2012 De Ziel van de Meester (The Spirit of the Master), Plantin- Moretus Museum / Prints Room, Antwerp.
2018 Hugo Claus, Con Amore, Bozar, Brussels.
2023 Baroque Influencers in the Snijders & Rockox House in Antwerp.
2023 Zandrond in De Warande in Turnhout.